The hurricane season began on June 1st and ends November 30th. Are you prepared?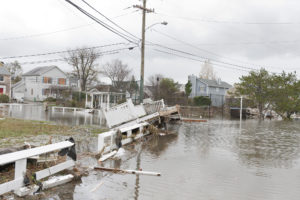 Hurricanes have the potential to inflict damage in numerous ways. Storm surges, high winds, heavy rains, and tornadoes are the greatest threats posed by hurricanes.
Storm Surge
A storm surge is a large dome of water (50-100 miles wide) that sweeps across the coastline close to where a hurricane makes landfall. It is the greatest potential threat to life and property associated with hurricanes. For this reason, NOAA advises that those who may be affected by a storm surge plan for a storm that is one category more intense than is forecast.
Heavy Rains
Hurricanes typically produce rainfall of 6-12 inches or more, often resulting in severe flooding. In general, rains are heaviest with slower moving storms (less than 10 mph). The heaviest rains usually occur in a 6-hour period before landfall and 6 hours after. However, as was the case with Hurricane Irene, storms can last for days, depending upon the inland weather features they interact with. Flash floods and mudslides are a danger for inland areas, and inland flooding has been the primary cause of hurricane fatalities over the past 30 years.
High Winds
High winds begin well before a hurricane makes landfall. The amount of damage inflicted by these winds depends upon whether your community has an effective mitigation program in place and has prepared in advance of the storm. High winds can damage or demolish structures. In addition, severe injuries can result if someone is hit by wind-swept debris.
Tornadoes in the Wake of Hurricanes
FEMA defines tornadoes as incredibly violent local storms that extend to the ground with whirling winds that can reach 300 mph. When there is a hurricane, often a tornado will follow, adding to the storm's destructive power. NOAA's studies have shown that more than half of the landfalling hurricanes produce at least one tornado. Although tornadoes associated with hurricanes are less intense than those that occur in the Great Plains, the effects of tornadoes when added to hurricane-force winds can produce substantial damage. Scientists are closer to predicting tornadoes than they were a few years ago, but it is still difficult to predict tornadoes far in advance; therefore, preparedness is critical.
Below are some guidelines to take into consideration when preparing for a hurricane.
Securing Your Facilities in Advance
Make modifications to your facility in advance to help protect it from the effects of hurricanes and other natural disasters. Check with your local building official to see what modifications will work for your facility, or consult an independent consultant or engineer. 
Reinforce or Replace Garage Doors
High winds can damage garage doors or even blow them in. To help protect your garage and its contents, reinforce existing garage doors or replace doors that are not working properly.
Install Storm Shutters or Plywood Covers for Windows
High winds and windblown debris can easily break unprotected windows. Besides the damage to the windows, wind, glass and debris entering your building has the potential to cause interior damage and injure occupants. If you are not able to install storm shutters, be sure to invest in plywood covers. Keep pre-drilled plywood coverings in an easily accessible storage area that will allow you to do a quick installation before the arrival of a severe hurricane or evacuation.
Brace Gable End Roof Framing
Gable end roofs are more susceptible to damage by high winds than hip roofs or flat roofs. If the framing of the gable end and the rest of the roof are not adequately braced to resist the wind, the roof can fail. If your facility has a gable roof, check to see if the roof framing is adequately braced. If you are unsure, check with the local building department or a member of your facilities management department. After inspecting your roof framing, a building official can tell you if bracing is required and how it should be added.
Grounds Keeping and Routine Maintenance
Maintaining your grounds and performing routine facility maintenance throughout the year is critical to ensure that your facilities are prepared for whatever emergency may arise. Procedures such as pruning trees, regularly removing damaged or dead branches and removing dead trees should be a part of your regular maintenance routine. During hurricanes or heavy storms, nearby buildings and structures are at high risk when a sickly or poorly pruned tree loses a limb, uproots or whips into wires. In addition, be sure that drains and gutters are unobstructed and clear of debris and inspect roofs for damage or leaks.
When a hurricane is imminent, you will need to secure anything that might tear loose or blow away, such as garbage cans, grills, potted plans, signs or lawn furniture. The basic rule is that if it is not nailed down, find a secure place for it. To prepare, be sure to designate and clear out an area to store these objects ahead of time, such as a garage or basement.
Creating an Emergency Supply Kit
Put together a kit that you can use at your location or take with you in the event of evacuation. For more information on what to include in your kit, click here.
Consider the need for backup systems. Be sure all equipment if fully operational and properly installed. FEMA recommends the following:
Portable pumps to remove flood water

Alternate power sources such as generators or gasoline-powered pumps

Battery-powered emergency lighting
When Hurricane Katrina hit New Orleans in August 2005, many sacramental records were either lost in the floods or badly contaminated from mold and other environmental factors. For this reason, Dr. Emilie Leumas, archivist for the Archdiocese of New Orleans, recommends that pastors take vital documents with them at the time of evacuation.
In addition to sacramental registers, other vital documents such as architectural drawings should be scanned and sent to the archdiocesan archive office ahead of time, if possible. In the event that a building suffers physical damage from the hurricane, the architectural drawings will be an important resource. For more information, please contact Mr. Robert Johnson-Lally, telephone: 617-746-5795.
To ensure the safety and preservation of sacramental registers, school and cemetery records, begin by using bindings and paper that are permanent, durable and acid-free. Use only ink that is of archival quality. If these documents are subjected to water, mold or humidity, archivists may be able to restore them if the correct materials were used. Permanent, inactive records should be stored in boxes (preferably water-tight plastic bins) on high shelves. Do not store files in the basement. Please note that safes are generally not waterproof.
To protect electronic records from permanent loss, it is vital that locations set up a procedure to remotely back up files. There are many companies that provide this service. Be sure, however, to investigate the integrity of the company and ask questions about the security measures used. Security measures vary from provider to provider. Ask the following questions: How often will backups be done? What kind of physical security is in place for the actual hardware that the data will be stored on? What encryption methods will be used? Will your data be on a dedicated server or a shared server? If you are using a shared server, what barriers are in place to keep your information separate from other organizations?
Inventory of Office Equipment and Valuables
In order to help expedite the claims process after a hurricane event, it is important to keep an inventory of office equipment and valuables. The easiest way to do this is to take photos and store the photos electronically. Start by taking a photo of each wall and the interior of every room where equipment and valuables are kept. Alternatively, document each item in writing. Priests should be sure to take pictures or keep descriptions of higher-value items such as chalices, patens and vestments.
Establishing Facility Shutdown Procedures
In order to safeguard your property and operations, it is critical that you establish shutdown procedures for your facilities in advance of an evacuation order. These procedures should include the following:
Close and lock all windows and doors.

Close storm shutters or board up windows with pre-drilled plywood.

Safely shut off the electricity, gas and water supplies at main switches and valves.

Elevate valuable item and documents to high shelves, or plan to take them with you.

Remove papers from lower drawers of desks and filing cabinets and place them in plastic bags or containers on top of cabinets.

Move unanchored items inside (outdoor hanging signs, trash cans).

Use plywood to protect glass showcases.

Place sandbags in spaces where water can enter.

Change voicemail messages to reflect close of business/cancellation of services.
Because NOAA broadcasts cannot be heard on a simple AM/FM radio receiver, all institutions should be equipped with a NOAA weather radio receiver. Find a radio equipped with a warning signal, and be sure to store a set of backup batteries with your radio.
MEMA Alerts
There are now two primary methods that citizens in Massachusetts can get emergency information on their cellphones, Ping4alerts! and Wireless Emergency Alerts. Both of these methods will provide timely and important information about emergencies and hazards in your area and how you should respond to ensure your safety. Important messages may be delivered using both methods.
Determining How You Will Communicate With Staff
Make plans in advance to communicate with employees before and after a hurricane. If you subscribe to a communications system, use this system to keep staff up-to-date about office closings, evacuation and return to work protocols. If you do not subscribe to a communications system, maintain a list of email addresses and a calling tree list and designate the appropriate individuals to send emails and/or make phone calls.
In addition, communicate your own individual plan to others. In advance, designate someone as your out-of-area contact and keep this person informed of your whereabouts; e.g., when you are evacuating, what shelter you are going to, and when you plan to return home.
If you have any questions about any of the information above, please contact the Office of Risk Management.